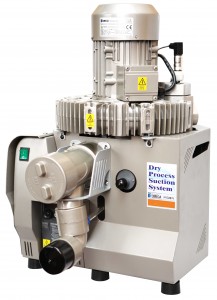 Recommended for 2-3 Surgeries
DMEGA suction motors use a Semi-Wet System. Both the suction and separation processes are performed within the suction motor. The result is a significant reduction in costs as there is no need to install a Water Separator in the dental unit.
The patented innovative design uses 2 cyclone impellors to guarantee 100% air and liquid separation. Furthermore, the implementation of the patented Triple wing System and auto drain valve, releases residue from the separator thereby reducing blockages, maintenance and ultimately costs.
The intelligent system is equipped with a digital display that supplies information on vacuum levels, voltage, amps and error codes.
An optional amalgam retention device efficiently processes waste water to remove amalgam.
Contact Us
E: EMAIL
T: 02 9567 3555 or 1800 061 343
F: 02 9599 2153
Suites 5&6, 39-45 George Street
POBOX 554 
ROCKDALE NSW 2216
Member