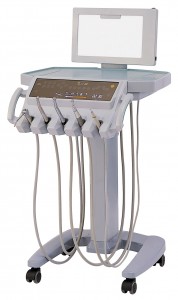 Perfect integration for standalone practices
The standalone unit can be easily integrated with the cart system.
The dental cart from Sky Dental is engineered to give maximum dependability at an affordable price.
The unit is designed with the following dynamic configuration: Triplex Syringe, 2 High Speed Fibre Optic Handpieces, Low Speed handpiece and Scaler. It also includes a built-in XRay viewer.
The integrated control panel serves as a command centre for controlling the handpieces, chair and dental light. The LCD panel displays the status and adjustments.
Air and Water coolant for high speed with On/Off and flow control for water coolant.
Adjustable vertical height and 7-foot umbilical
Self contained water system.
Contact Us
E: EMAIL
T: 02 9567 3555 or 1800 061 343
F: 02 9599 2153
Suites 5&6, 39-45 George Street
POBOX 554
ROCKDALE NSW 2216
Member
Australian Dental Industry Association
Subscribe for latest news