Soredex Digora Optime Deluxe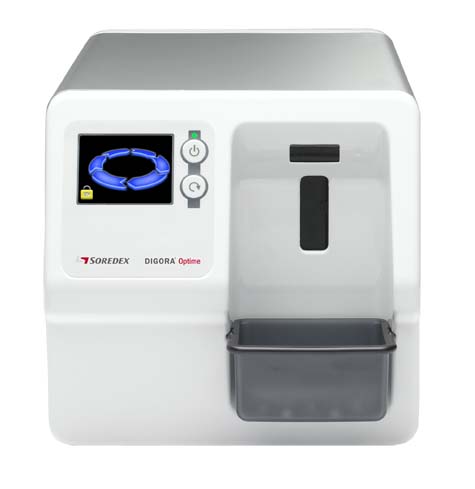 Reliable, Fast Digital Image scanning
Experience the economic benefit when you introduce digital imaging system into your practice.  Eliminate time, inconvenience and associated costs of using film processors.
Compact, and easy to install, the Digora Optime Deluxe system integrates seamlessly into your practice. With minimal training required your staff will experience the immediate benefits of reliable and fast digital imaging scanning. Long lasting wireless imaging plates are designed to cater for all ages and anatomies. Intraoral plates are available in 0,1,2,3 and Comfort Occlusal.
Your starter kit includes the following imaging plates: 2x size 0,  2x size 1, 5x size 2, 1x size 3.
The protective cover and hygiene barrier sleeves safeguard the plates from scratches and fingerprints thus ensuring prolonged use. Once used the plates are automatically erased and ready for re-use. The unique hygiene system minimises the risk of cross contamination.
With a fast readout time of 4-7 seconds, your staff will appreciate the immediate benefits of fast digital scanning. High quality digital scans are easily shared between several operatories
Contact Us
E: EMAIL
T: 02 9567 3555 or 1800 061 343
F: 02 9599 2153
Suites 5&6, 39-45 George Street
POBOX 554
ROCKDALE NSW 2216
Member